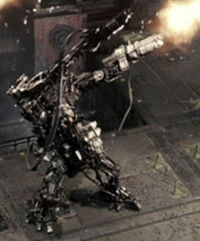 Don't over-squeeze the trigger.Kid
The Armored Personnel Unit (APU) was a hydraulic mechanized walker designed for combat. They formed part of the primary line of defense for Zion.
More than 120,000 units were produced by the time of the Battle of Zion, only 350 remain (although in screen when Captain Mifune gives his speech there are only around 70 APUs present). Its main armament are two 30mm rapid-fire cannons attached to its arms. All motion of the APU is controlled by the operator's hands, including its legs. APU operators were required to pass a training program.
They made their brief first appearance in The Matrix Reloaded, but were seen more prominently in The Matrix Revolutions.
Prototype APUs are also seen in The Second Renaissance Part II in The Animatrix.
Functionality
Armament
History
Notes
Appearances