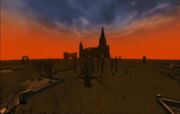 Ashencourte is a construct that is mainly inhabited by Gargoyles as well as Blood-drinkers. it is speculated that this construct, like Widow's Moor, was an archived remnant of the nightmare matrix which was saved by the archivists.
Ashencourte is a construct that centers on a haunted looking house with an orange sky, complete with sacrificial altars with candles. it is inhabited by Blooddrinkers, as well as a gargoyle which acts as a boss.
Blooddrinker Whelp
Blooddrinker
Community content is available under
CC-BY-SA
unless otherwise noted.