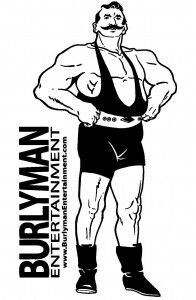 Burlyman Entertainment is a comic book publishing company started by the Wachowskis. The first publications were The Matrix Comics, published in two seperate volumes with the first in 2003 and the second in 2004. Since then, they have published sporadic installments for two additional titles both written by the Wachowskis, the Eisner Award winning Shaolin Cowboy (co-created and illustrated by Matrix conceptual designer Geof Darrow) and Doc Frankenstein (created by Geof Darrow and Matrix Storyboard Artist Steve Skroce).
The Wachoskis made a rare public appearence at the 2004 San Diego Comic-Con to promote Burlyman Entertainment, having a Q&A with the attending audience after having a costumed "Burlyman" hand out promotional goods with the assistance of two "Burly Babes."
The Matrix Comics
Shaolin Cowboy
Doc Frankenstein
"The Burly Man" was the project codename for The Matrix Reloaded and The Matrix Revolutions. The title was also adapted to the extensive documentary "The Burlyman Chronicles" which detailed the massive undertaking of filming those two movies back to back alongside making the companion videogame "Enter the Matrix". This documentary is included on Disc Nine in the Ultimate Matrix Collection.
In the film V for Vendetta, advertisements for a film called "Burlyman 7" can be spotted.
Community content is available under
CC-BY-SA
unless otherwise noted.