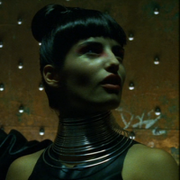 Dujour (also known as the White Rabbit Girl) was a young woman in Goth apparel who visited Neo with her boyfriend, Choi, at his apartment to pick some illegal software that Neo wrote in his spare time for extra money. She is portrayed in The Matrix by Australian actress Ada Nicodemou.
Dujour had a tattoo of a white rabbit on her left shoulder which Trinity used to lead Neo to a local nightclub for their first meeting.
Name
[
]
Together, the name Dujour and her boyfriend Choi form choi du'jour, or, in rough French, "Choice of the Day", an allusion to the power of choice within the Matrix and the choices that Neo makes that lead him to his destiny.