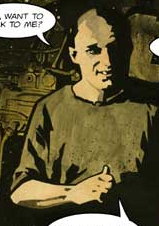 Link: I believe she's already made that point, Duncan, so let's move on to the question of, what now?
Duncan: You lost me!

― Duncan, oblivious of Charon's point[src]
Duncan was an operative that was involved in a mission to find and extract a gifted girl, named Hope, who was able to change her own RSI. His ideas and actions were always opposed by the ship's operator, Charon, who disregarded his ideas as either being stupid or too simplistic. When he tried to console Charon after the death of Eight Ball, Charon was instead questioning him back about who was currently doing his job. And when Duncan suggested they wait for their captain to return before deciding the next steps of the mission, Charon pointed out the risk of the Agents discovering their location while they wait. This pattern continued up to the last leg of the mission when he suggested that Link and Hope, being pursued by Agents, should ride the wires from the nearby cell phone tower towards the exit. Charon opposed the idea as the wire would not be able to support the weight. Link was fortunately able to rely on Hope and her abilities and, as suggested by Duncan, was able to successfully use the wire as guidelines, shortly saving Hope from the Matrix.
It is possible Duncan liked Charon which, in turn, made Charon dislike Duncan and be reluctant to be left alone with him. Duncan also displayed a combination of bad timing, timidness, and an over-eagerness to help which could have just rubbed Charon the wrong way.
Appearance
[
]