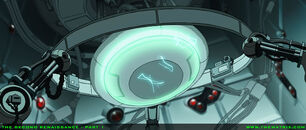 A hoverpad is a device that is implemented as an extravehicular component granting the capability of flight and agile maneuverability.
A hoverpad typically consisted of a circular, domal platform which presumably generated an electromagnetic field strong enough to suspend an object above ground causing flight. Hoverpads, when activated, would emit a fluctuating humming sound and produced luminous electrical currents along its surface.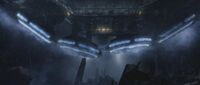 Hoverpads were mass produced by the Machines of 01 and were distributed to humans all around the globe during the Second Renaissance. It was a completely new technology which took the world by storm as it practically eliminated the need for wheeled and winged transportation. The humans used these hoverpads in their hover-car and high altitude bomber production lines.

Needless to say, hoverpads were an integral part in hovercraft flight. Military grade hover pads are of a tougher and beefier design allowing them to stay functional after many hits and hard-knocks, this proves to be useful when traveling through old underground sewer and city networks.