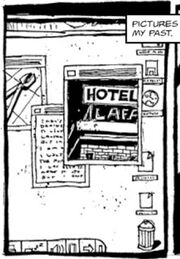 The Lafayette Hotel is used by Morpheus and his crew as a headquarters, and their main exit point is there.
Neo was taken there to meet Morpheus and it was there that he took the red pill.
It is discovered by the agents when Cypher drops his activated cell phone in the trash can when they're going to the Oracle. Whilst walking to exit Neo experiences déjà vu, Tank calls Mouse and tells him to get out but Mouse is killed when he is waiting in an upper level of the hotel alone. The agents take over Lafayette hotel.
See Also
[
]
Appearances
[
]