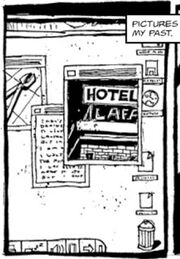 The Lafayette Hotel is used by Morpheus and his crew as a headquarters, and their main exit point is there.
Neo was taken there to meet Morpheus and it was there that he took the redpill.
It is discovered by the agents when Cypher drops his activated cell phone in the trash can when they're going to the Oracle. Whilst walking to exit Neo experiences déjà vu, Tank calls Mouse and tells him to get out but Mouse is killed when he is waiting in an upper level of the hotel alone. The agents take over Lafayette hotel.
Sixty years later, while trying to escape from the Matrix, Bugs tells a program version of Morpheus that they need to reach the Lafayette where there is an exit waiting for them. The two attempt to use the backdoors in Neo's Modal to reach it, but Morpheus' disorientation after taking the redpill causes them to first end up back in a keyshop with Agents and then outside of a movie theater. Using a portal provided by Seq, the two are able to reach the exit, a skylight, by skydiving out of a nearby window.
See Also
[
]
Appearances
[
]