Welcome to
A fan-written encyclopedia that anyone can edit.

1,612 articles since opening on June 23, 2006
Warning: This wiki contains spoilers. Read at your own risk.
Purpose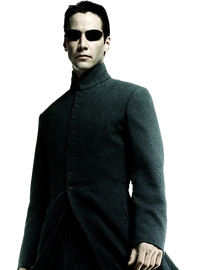 The Matrix saga tells of a war between the resistance and a race of sentient Machines who imprisoned humanity within a virtual reality known as the Matrix. The films center on The One, a man gifted with special abilities and an important destiny. Woven throughout the main story of the Matrix are various threads of background stories that cut across different mediums, including the films as well as comics, video games, and an animated anthology series.

Beyond the surface of its story, The Matrix is rich in explorations and allusions to various questions in philosophy, theology, psychology, sociology, politics, and computer science.
Featured Article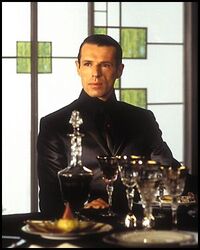 The Merovingian (sometimes called The Frenchman) is an old program that resides within the Matrix. Self-described as a "trafficker of information", The Merovingian behaves much as a leader of a powerful organized crime syndicate. He and his wife Persephone operate a smuggling ring providing a haven for exiled programs in the Matrix. The Merovingian is described as an "Operating System" by The Kid in his blog incorporated in The Matrix Online, although this presumably describes his role pre-Exile rather than his current function.
---
Quote
"

I stand here without fear because I remember. I remember that I am here not because of the path that lies before me but because of the path that lies behind me.

"

― Morpheus during his speech in the Temple
Adding content? Please visit our Community first.
--
Changes to the Main Page can be proposed here.
---
This wiki is dedicated to The Matrix franchise co-created by the Wachowskis. More from the same creators? See also Sense8.