Monica Bellucci (born 30 September, 1964) is an Italian actress and model most known for the role of Persephone in The Matrix Reloaded and The Matrix Revolutions.
Birth and Early Life
Edit
Monica Bellucci was born on 30 September 1964 in the Italian village of Città di Castello, Umbria, Italy by parents Brunella Briganti and Pasquale Bellucci. Monica was born an only child and spent a majority of her life living in San Giustino.
Modeling Career
Edit
Bellucci began modeling for a local photo enthusiast by the age of 13. However, while attending the University of Perugia during the mid-1980s, she modeled on the side to earn money for school, and this led to her modeling career. In 1988, she moved to one of Europe's fashion centers, Milan, and joined Elite Model Management. By 1989, she was becoming prominent as a fashion model in Paris and across the Atlantic, in New York City. She posed for Dolce & Gabbana and French Elle, among others.
Her modeling career lasted for many years until the early 1990s where she received acting opportunities.
In 2012, Bellucci became the new face of Dolce & Gabbana.
Acting Career
Edit
Bellucci's acting career started in the early 1990s having minor roles in La Riffa and Bram Stoker's Dracula. In 1996 she was nominated for a César Award for best supporting actress for her portrayal of Lisa in L'Appartement and strengthened her position as an actress. She became known and popular with worldwide audiences after her role in Malèna. Her performance got her known and she was contacted for more roles from Italy, France, and the United States.
The Matrix Reloaded & The Matrix Revolutions
Edit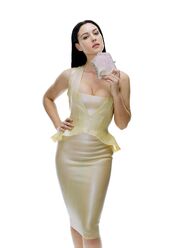 Lana and Lilly Wachowski contacted Bellucci after watching Malèna and offered her a powerful and important role for their next films, The Matrix Reloaded and The Matrix Revolutions. Bellucci accepted the role after being contacted and reading the script for both of the films.
Bellucci claimed that she loved playing her character, Persephone, as she is beautiful and displays many different emotions and characteristics with color symbolism and dialog.
Religious Beliefs
Edit
Even though Bellucci starred in The Passion of The Christ, she claimed that she is agnostic. Bellucci quoted, "I am an agnostic, even though I respect and am interested in all religions. If there's something in which I believe, it's a mysterious energy - the one that fills the oceans during tides, the one that unites nature and beings."
Marriages
Edit
Bellucci was married to Claudio Carlos Basso from 3 January 1990 to 25 June 1994. Their marriage ended with divorce. But Bellucci married to French actor Vincent Cassel in 1999 and are living well together. They have two daughters, Deva (born 2004) and Léonie (born 2010).
Filmography
Edit
La riffa (1991)
Bram Stoker's Dracula (1992)
L'Appartement (1996)
Come mi vuoi (1997)
Ultimo capodanno dell'umanità (1998)
Under Suspicion (2000)
Malèna (2000)
Irréversible (2002)
Remember Me, My Love (2003)
The Matrix Reloaded (2003)
The Matrix Revolutions (2003)
The Passion of the Christ (2004)
She Hate Me (2004)
The Brothers Grimm (2005)
Manuale d'amore 2 (2007)
She, along with The Matrix Reloaded co-star Keanu Reeves, both appeared in Bram Stoker's Dracula.
Bellucci is fluent in Italian, English, French and Spanish.
She is an Italian citizen.
A wax statue of Bellucci is in the Grevin Museum in Paris.
Bellucci's favorite movie is A Special Day (1977) by Ettore Scola.
Community content is available under
CC-BY-SA
unless otherwise noted.