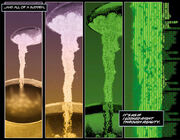 Self substantiation is the act of a bluepill becoming aware of and/or escaping from the Matrix, without any external help or means.
It is stated in the Animatrix short World Record that only exceptional humans tend to become aware of the Matrix, those who have "a rare degree of intuition, sensitivity, and a questioning nature", all qualities which are used to identify inconsistencies in the Matrix. The narrator then adds that "some attain this wisdom through wholly different means".
Many of the stories in The Matrix Comics include characters becoming aware of the Matrix to some extent, without any help from the Resistance.
Self-substantiation is never thoroughly discussed in any part of the series, although people who have achieved it are mentioned: