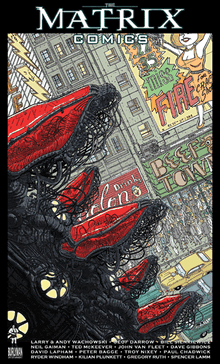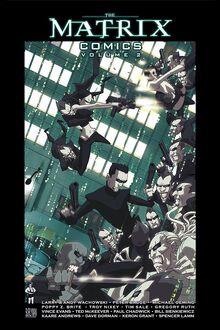 The Matrix Comics refer to a group of short stories, comics and pin-ups set in the Matrix universe.
They were originally published on the official Matrix website from 1999 to 2003 as three series of webcomics with additional pieces of artwork, most of which were later collected into two volumes, published by the Wachowskis' company Burlyman Entertainment along with three comics never released on the internet.
The comics' editor was Spencer Lamm. The Wachowskis contributed one script to the project, Bits and Pieces of Information, aspects of which were later included in The Animatrix short animated film The Second Renaissance.
A 20th Anniversary Deluxe Edition is set to be published by Burlyman Entertainment in November 2019.
In addition, a number of the comics were printed individually in comic books:
A preview comic book of The Matrix Comics Volume 1 which included only The Miller's Tale was printed for San Diego Comic Con 2003 and was also given away free to everyone who pre-ordered the volume
As well as comic strips there were a number of pieces of high quality artwork called pin-ups which were generally made by the artists for one of their own stories in a series. These were often released as a preview of the comic before it was available on the website.
Community content is available under
CC-BY-SA
unless otherwise noted.