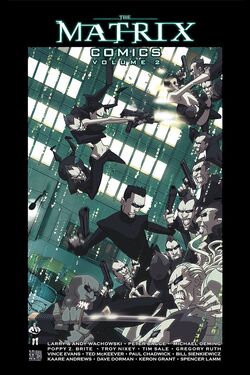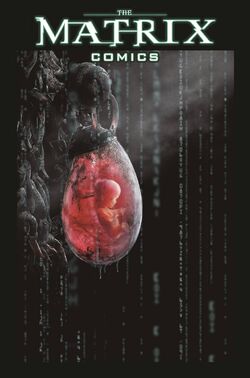 The Matrix Comics refer to a group of short stories, comics and pin-ups set in the Matrix universe.
They were originally published on the official Matrix website from 1999 to 2003 as three series of webcomics with additional pieces of artwork, most of which were later collected into two volumes, published by the Wachowskis' company Burlyman Entertainment along with three comics never released on the internet.
In 2019, all previously released comics were reprinted in a single-volume collection, over 400 pages long: The Matrix Comics: 20th Anniversary Edition (with two minor exceptions, both webcomics which were never released in print form). It also included four comics that weren't included in either of the previous two hardcover collections. For a full listing of all extant comic stories see the article for that collection.
Publication History
[
]
The comics' editor was Spencer Lamm. The Wachowskis contributed one script to the project, Bits and Pieces of Information, aspects of which were later included in The Animatrix short animated film The Second Renaissance.
In addition, a number of the comics were printed individually in comic books:
The Matrix Comics: 20th Anniversary Edition is the first hardbound collection for the comics and includes all Matrix stories from the first two volumes together with four previously unprinted stories.[1] The four new-to-print stories are:
Unprinted Comics
[
]
The comic Morning Sickness was not included in any of the printed collections.
The comic The Man Who Knew Too Much was initially published on the official Matrix website but was later silently deleted for unknown reasons. This comic is yet to be republished in print nor online.
Pin-ups
[
]
As well as comic strips there were a number of pieces of high quality artwork called pin-ups which were generally made by the artists for one of their own stories in a series. These were often released as a preview of the comic before it was available on the website.
External links
[
]
References
[
]