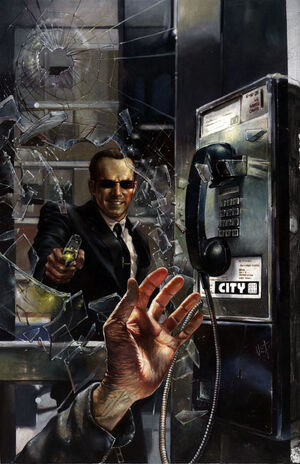 The Matrix Comics Series 1
is the first collection of
webcomics
set in the
Matrix universe
. It was released on the
official website
through 1999 and includes two short stories, seven comic strips (of which one,
The Man Who Knew Too Much
, was removed early on) and four pin-up pictures.
Introduction
Edit
The Matrix is not an easy film to explain. Beneath a story of unexpected complexity, it is, at its core, a film of ideas and it is those ideas that have inspired this project: a collection of stories set in the world of the Matrix.
The stories stand alone. They are not adaptations.
The contributors are some of the most talented artists and writers working in the comics medium today.
They include: Paul Chadwick (CONCRETE), Neil Gaiman (SANDMAN), Bill Sienkiewicz (ELECTRA ASSASIN), Harlan Elison (I Have No Mouth and I Must Scream), Steve Skroce (GAMBIT), Michael Kaluta (BOOKS OF MAGIC), Geof Darrow (HARD BOILED), Poppy Z. Brite (LOST SOULS), Larry and Andy Wachowski (BOUND), Ted McKeever (METROPOL), among others.
The stories work without seeing the film and run a wide spectrum of types, from action to contemplation to frightening, much like the film itself.
And the best part is: it's all free! FREE!
Long live the web!
Series 1 had four pin-ups:
See also
Edit
References
Edit