This relative timeline of The Matrix franchise includes the stories of the films, the video games, The Animatrix short films and The Matrix Comics. Many of these run parallel to one another while some are difficult to place (though most can be assumed to take place before the Truce). Others, such as The Miller's Tale, are stories set within stories. But a general relative timeline follows:
Origins
[
]
The Second Renaissance and Machine War
[
]
Events covered: Second Renaissance, Machine War, Operation Dark Storm

Early Sixth Zion
[
]
The Matrix Trilogy
[
]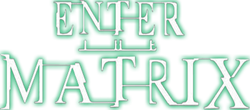 Believed by the Resistance to be around 2199 but is in fact perhaps 500 years later.
Events covered: Crisis Meeting, Reload, The Freeway Chase
Enter the Matrix (follows on from Final Flight of the Osiris and continues parallel to Reloaded)
The Matrix: Path of Neo runs parallel to the events of the films (beginning with Morpheus offering Neo the choice), filling in some details between them, and features an alternative ending.
Post Trilogy
[
]

Truce
[
]
Events covered: Truce
Post-truce
[
]
Events covered: Second Machine War
The Matrix Resurrections
[
]
Unknown
[
]
Many other Animatrix films and Matrix Comics can't be placed definitely in the series' chronology, though some make reference to or feature specific characters and most can be assumed to take place some time in the sixth Matrix and before the events of the first film:
The One
[
]
The Oracle and potentials
[
]
Morpheus and Trinity
[
]
Link
[
]
Pequod
[
]
The Instructor
[
]
Other (Animatrix)
[
]
Other (Comics)
[
]
Outside canon
[
]
Two comedic webcomics by Peter Bagge set in the Matrix aren't to be taken as serious events in The Matrix universe:
See also
[
]
Notes
[
]